Nano G-LAY All-In-One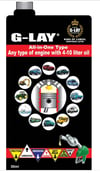 🏍🛵🛵🚜🚛🚚🚒🚗🚓🚕🛺🚙🚌🚐
⭐⭐⭐ AUTHORIZED SINGAPORE NANO ENERGIZER & NANO G-LAY DISTRIBUTOR ⭐⭐⭐
⭐⭐⭐ THE ULTIMATE ENGINE TECHNOLOGY ⭐⭐⭐
The Next Level Of Engine Oil Additives Using GRAPHENE Technology (100% Engine Safe)
🔶🔶🔶 GRAPHENE LAYER – King Of Lubricant Oils 🔶🔶🔶
MIRACLE Effects Of G-Lay : -
1) Ultimate Protection By Graphene Layer (200 Times Stronger Than Steel)
2) Improve Engine Power By Up To 42%
3) Increase Fuel Efficiency Up To 17% Or More*
4) Lower Engine Noise
5) Lower Engine Vibrations
6) Reduces Smoke Emissions
7) Reduces Engine Temperature
8) Long Lasting Protection
9) Extend Engine Oil Lifespan By Up To 30000km
Graphene Is Called The Wonder Material Of Dream. It Is The World Strongest Material. It Is 200 Times Stronger Than Steel. It Has Excellent Effect For Thermal Conductivity, Dispensability, Abrasion, Heat & Oxidation Resistance.
G-Lay Is Manufactured By NanoTec International In Their Own Laboratory & It Is The Only Graphene That Can Be Used As A Lubricant Oil Additive. The Graphene Developed By Other Manufacturers Could Not Be Used Due To The Micron-Sized Diameter Which Will Clog Up Filters In The Oil System.
The Graphene Produced By NanoTec International Is 0.25nm In Thickness & 50nm In Lateral Size. This Size, Uniquely Developed By Their Proprietary Nano Technology, Will Not Clog Up Filters Of Oil System Thus Suitable For Use In All Oil Filters.
Please note on the following:
1 pack of G-Lay to be used for 600cc to less than 2000cc engines.
2 packs of G-Lay is recommended for engines above 2000cc.
2 packs of G-Lay is recommended for turbo, diesel engines and vehicles with 150000km and above mileage.