NanoMaxx - Radiator Additive (All Vehicles)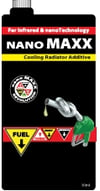 ⭐⭐⭐ AUTHORIZED SINGAPORE NANO ENERGIZER & NANO G-LAY DISTRIBUTOR ⭐⭐⭐
*** Our Product Comes With A Genuine Sticker & Expiry Date Stamp ***
Fuel Saving Technology 100% Made In Korea, Proven & Tested, Sold In Over 55 Countries Since 2005.
NanoMaxx Is A Car Coolant Additives Using The Far Infrared Electromagnetism Process.
The Results Of Using NanoMaxx In Vehicle Cooling Radiators Is Proven To Achieve The Following : -
- Fuel Savings Of Between 8% to 30%
- Smoke Emission Reduction By Between 30% To 95%
- Power Improvement By Between 10% To 30%
- Engine Noise Reduced By Between 10% To 25%
How Does NanoMaxx Works?
When Fuel Is Triggered In The Vehicle Engine Chamber, Only 70% To 75% Of The Fuel Is Converted To Kinetic Energy To Power The Vehicle. The Balance 25% To 30% Of The Fuel Is Not Converted And Is Transformed Into Harmful Emission During High Speed Movement Of The Pistons.
Upon Injection Of NanoMaxx, Anode+ Is Generated Onto The Surface Of The Water Jacket Next To The Engine Combustion Chamber. The Anode+ Will Trigger The Bonding Of Anode- , Hydrogen And Carbon By The Far-Infrared Electromagnetism Process Leading To Better Combustion Of The Fuel.
With Better Combustion Efficiency, Fuel Savings, Lesser Emission, Lower Temperature, Lesser Engine Noise And Engine Power Improvement Are Achieved.
Effects Of NanoMaxx Will Last Two Years (Based On Rust-Free Radiator)
It Is Recommended To Inject NanoMaxx Only After Doing Coolant Flush & Coolant Change For Best Effects.
NanoMaxx Is 100% Radiator-Safe.
01 Pack Of NanoMaxx Is Recommended For Motorbikes.
02 Packs Of NanoMaxx Is Recommend For Cars / Vans / Lorries.
03 Packs Of NanoMaxx Is Recommended For Heavy Industrial Vehicles